I gotta tell you, I was really excited about WrestleMania 33. I was all ready to hunker down this week & write about all of the great things sure to happen on this Sunday's Show of Shows.
The Brock Lesnar vs. Goldberg Universal Title match we've been waiting for since WrestleMania XX. The Survivor Series was a mere appetizer for what these two men will unleash on us this Sunday, no doubt about it. I could not be more excited.
Then again, I think I'm even more excited about Roman Reigns vs. The Undertaker! The Deadman is rumored to be heading into his final WrestleMania, and who better for The Phenom to face in his last appearance on the Showcase of Immortals than The Big Dog? It's WWE's greatest gimmick of all time taking on the future of WWE. Does it get any bigger or better than that?
Probably not, but hey, how about Randy Orton vs. Bray Wyatt? The Viper burned down the resting place of Sister Abagail to get under the WWE Champion's skin, and you know The Eater of Worlds isn't going to let that crime go unpunished. SmackDown Live's WrestleMania Main Event should be off the chain, no doubt about it.
Speaking of the chain, The Leader of the Chain Gang John Cena and the Fearless Nikki Bella are more than ready to take on The Awesome Miz & his lovely wife, The French-Canadian Beauty Maryse. The bad blood between Cena & Miz goes back ages, as does the hatred between Nikki & Maryse, and it's all set to combust at the Show of Shows!
Speaking of combusting, Shane McMahon just might combust at WrestleMania. The Prodigal Son has himself a match with The Face That Runs The Place, the Phenomenal A.J. Styles. The tension between these two men has been building for months, as Styles feels that Shane-O Mac has been holding him backfrom being an even bigger star. These two are going to risk their lives & do crazier stuff than anybody else on the Grandaddy of Them All.
I'm sure there are other outstanding matches to talk about, and there will be awesome celebrities in the house like Al Roker & Pitbull, but the news that broke Monday afternoon has me way too depressed and heartbroken to talk about them:
"WrestlingInc reports that a WWE source has informed them that the company has no plans to renew Eva Marie's contract. Eva has not appeared on WWE TV since being suspended due to a Wellness Policy violation for 30 days back on August 17th of last year.
Since being off WWE TV, Eva has changed her hair color to black, filmed two movies, and has not mentioned WWE on her social media accounts. She also removed references of WWE from her Twitter profile.
The last mention of Eva on WWE TV was when Sami Zayn told RAW GM Mick Foley he is worth "1000s of Eva Maries" during an angle where Foley was threatening to trade Zayn for Eva." – 411mania.com
To say that this is a sad day would be an understatement.
Eva Marie's WWE career suffered from the "Too Much, Too Soon" phenomenon. She arrived in WWE in 2013, and soon after that she was tapped to be on Total Divas. She was nowhere near ready to appear on WWE television, but the E! people loved her and thought she would be great for their reality show. And she was, at least in the first couple of seasons. I freely admit to giving up on the show after Season 2. Due to Eva being one of the main characters E! wanted on the show, she needed to appear on WWE television frequently. She wasn't ready from an in-ring standpoint, and finding other things for her to do was a bit of a struggle.
Fans turned on Eva pretty quick. They were skeptical anyway, as they usually are of women that seem to be around more for their looks than their wrestling ability. Granted, if Eva had come along ten to fifteen years earlier, this wouldn't have been a problem. The Attitude Era had its share of women without experience or ability to do much of anything getting over. Heck, Trish Stratus was over like rover with WWE fans long before she showed any kind of in-ring ability. Let's not act like everybody saw her rise to the top of the Women's Division coming. They liked her because she was hot. Plain & simple.
It's not that easy these days. Wrestling fans are a lot pickier now. It's about more than looking good for the ladies now. With things being PG, perverts have found other places to go. The leftover fans prefer their women to have some ability in the ring. Perhaps some competence behind the microphone. First impressions are a big deal too, and Eva's first impression was a bad one. She couldn't wrestle and she couldn't talk. At least not on Raw or SmackDown. She was good talking on Total Divas. But as far as wrestling went, she didn't have anything to bring to the table. Maybe she would have someday, and she was starting to hit on something when she went down to NXT in 2015.
But injuries combined with Wellness suspensions combined with preconceptions doomed Eva to also-ran status among the WWE women. It's not surprising that her contract won't be extended. Eva, for her part, has gone back to her original hair color and hasn't tweeted about WWE in quite awhile, so she definitely appears to be moving on to other endeavors.
Eva will mostly be remembered as the face of the Total Divas Era. WWE tried to reach a different audience with the show, and it's seemed to work as it's still airing on E!. I know my sister catches it from time to time and she seems to think it's all right, even though it hasn't made her any more likely to watch other WWE programming. Sometimes that's all right, as you can't expect everybody to be like me and watching content whenever they're not working, sleeping or watching sporting events. If you can get people that otherwise wouldn't watch wrestling to check out something you produce, it's a good thing. And maybe it'll lead to increased viewership on other shows, but if it doesn't, it's at least increasing brand awareness and making people aware of who you are and what you do.
As for other contributions made by Eva Marie to pro wrestling…well, you can thank her for the column you're reading right now.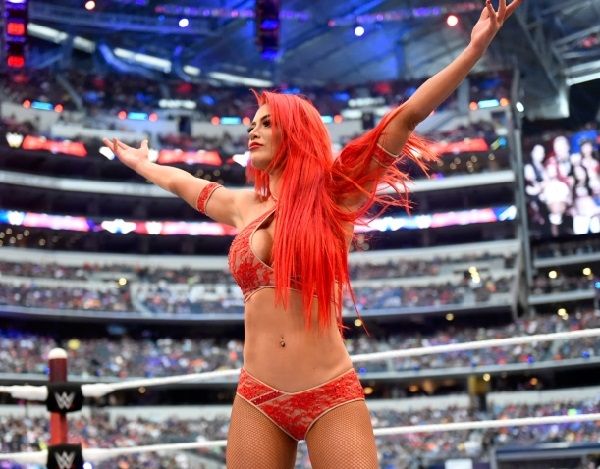 I had progressively gotten burned out on writing & talking about professional wrestling towards the end of 2013. Difficulties in my professional life combined with a lack of desire to keep up with what I was being presented with by mainstream wrestling on a weekly basis led to my writing fewer and fewer columns before finally disappearing for good by October 2014. I wrote one column for 411Mania in 2015, the final 411Wrestling Hot 100 column.
By the time 2016 rolled around I considered myself done as an Internet wrestling pundit. The podcast appearances had dried up & I'd moved on to writing about sports. The Ultimate Sports Blog does a little dabbling in wrestling, though, and I dipped my foot in the water with a Raw/SmackDown Draft Analysis in the style of actual sports draft analysis columns. I wasn't fully committed yet, but something on SmackDown Live took my interest enough that it warranted a column.
The Spectacularness of Eva Marie
The humor of the angle, along with my longstanding affinity for Eva's work, was just the kind of business I could really sink my teeth into. It started the snowball rolling and eventually I took Greg's invitation to write here.
A couple of months after that I wrote about Eva Marie's Top 11 Matches of 2015-16. It was the day that column came out that 411 invited me to come back to their site. Every recent turning point in my writing career has something to do with Eva Marie. Whether it's fate, coincidence or whatever, I have her to thank for recent events and for whatever comes in the future. Who knows if I would have become interested in writing about wrestling again if not for Eva Marie? Sure, I can be a bit of a horndog and maybe somebody else would have come along that caught my fancy, but it was Eva that motivated me to get back into this.
Thank you, Eva.
WrestleMania weekend will have an endless amount of professional wrestling events to cover. I will play my part with a heavy heart, yet ready for what the future holds. As a pro wrestling fan, I can not allow myself to dwell on the past. I will be ready for what's ahead & will embrace the future with open arms. Whether the wrestling is good, bad or just kind of there, I will be ready for it. I will comment on it as only I can.
I think that's what Eva would want.