I have a full-blown case of Stanley Cup Fever.
My Nashville Predators are in the middle of a first round series with their hated division rivals, the Chicago Blackhawks. My attention has been focused on the Preds all week instead of pro wrestling, which is understandable because it's the Cup. When your hockey team is involved in the postseason, everything else takes a backseat. Even pro wrestling. Hockey fans know what I'm talking about.
Since I haven't been thinking of wrestling at all this week it's been ridiculously tough to come up with a topic…until I decided to combine what I'm thinking about with what I'm expected to write about. Hence, I've come up with a list of the top 5 connections between hockey & pro wrestling. Just missing the cut is Edge & Christian's re-enactment of Avalanche vs. Red Wings because I couldn't find the footage & Stacy Keibler wrestling in a Toronto Maple Leafs jersey & silver shorts because I couldn't find any really good pictures.
5. The Goon
"Wild" Bill Irwin had a successful wrestling career by many measures. He had a good singles run in World Class & his tag team with his brother Scott was big in Georgia Championship Wrestling. It's quite possible that his widest exposure came through this awful persona. Don't get me wrong, a hockey player wrestling could get over in the right circumstance, but this was 1996 WWF, where occupations became one-dimensional gimmicks that didn't get over. The Goon had as much of a shelf-life as Abe "Knuckleball" Schwartz did. How come Steve Lombardi didn't get back under that gimmick so they could form a sporting tag team?
4. Special Guest Referee Dave Schultz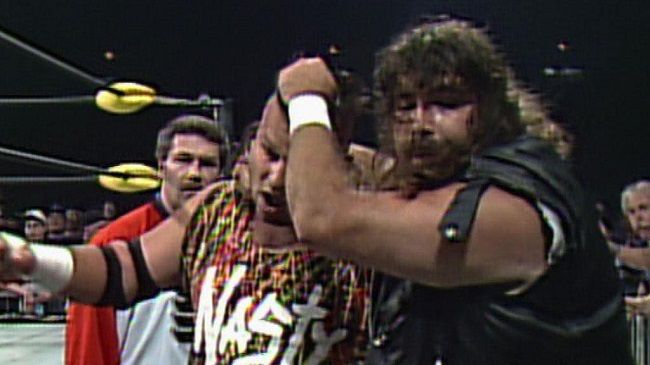 Cactus Jack & the Nasty Boys had a series of violent, fun PPV matches in 1994. Maxx Payne was Jack's partner for the first couple, but was removed from the situation after breaking Brian Knobbs's shoulder and getting into a backstage shouting match with Eric Bischoff. Kevin Sullivan joined up with Cactus for a title match with the Nastys at Slamboree 1994 in Philadelphia, and since the previous matches had been so violent and adding Sullivan to the mix figured to make things even crazier, WCW decided to go to Philly's past and find the toughest Flyer they could to be the guest referee. Schultz, part of the infamous Broad Street Bullies, was tapped for the gig and he did a good job of letting the guys do whatever they wanted in the Broad Street Bully Match. He got into it with one of the Nastys because why wouldn't he, and Jack & Sullivan got the WCW tag straps. They were feuding soon after because they were crazy people.
3. The Calgary Hitmen
Remember when Bret Hart owned a junior hockey team? The Hitmen are still a thing in Calgary, and forty-two former Hitmen have made their way to the NHL. I'd say the most famous are Ducks captain Ryan Getzlaf, Sharks goalie Martin Jones & current Islander winger Andrew Ladd. Bret was one of the original owners of the team before the Calgary Flames bought it. He still supports them and will wear their jersey in public on occasion.
2. Chris Jericho's Dad
We all know by this point that Chris wasn't the only athlete in his family. Ted Irvine, the Father of Jericho, played in the NHL for fourteen seasons, splitting time between the Bruins, Kings, Rangers & Blues. He was most known for his six seasons with the New York Rangers in the 1970s, as recently as 2009 he was still making Top 100 lists of the greatest Rangers in history. He even showed up on Nitro one time to tell his son to shut up or man up.
1. The Perfect Goalie
Minnesota is well known for its love of hockey, with the North Stars having a successful run in the 70s & 80s and the Wild making fairly regular playoff appearances lately. Certainly you'd have to figure that a versatile athlete like Curt Hennig spent some time on the rink, and sure enough he shut down a bunch of NHLers. I have no reason to believe that footage was doctored in any way.
Thanks for reading! Maybe I'll have something about wrestling that doesn't have to do with hockey next week, but I make no promises.