As I write this column, I have the WWE Network going on the other side of my computer screen. I'm watching some Prime Time Wrestling from March 1987 because I'm a huge fan of Gorilla Monsoon & Bobby "The Brain" Heenan's interactions. WWE Network has made me very happy recently by uploading a bunch of Prime Time Wrestling & Mid South Wrestling. I'm an old school kind of guy, but I wasn't around for most of the stuff that I love to read about & hear about most. The Network is allowing me to catch up on all these things that I've heard about and wanted to see for years…my only regret is that I don't have enough hours in the day to watch it all.
My sensibilities when it comes to wrestling are probably closer to Randy Orton's and Rip Rogers' than to most of my fellow members of the Internet Wrestling Community. If you give me a choice between a thirty year old episode of Prime Time Wrestling or a current episode of any wrestling show active in 2017, I'll take Prime Time all day every day. Give me Gorilla/Bobby banter and some old school wrestling and I'm happy.
When I read something like this: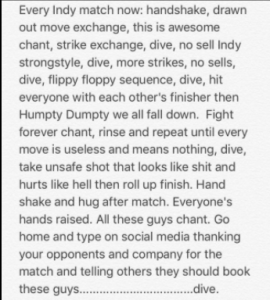 I kind of have to nod along. This sounds like most of the indy wrestling (and honestly, just wrestling in general) that gets the most hype these days. "Hustler" Rip Rogers shared this take from a trainee of his, who has obviously been listening very well to his mentor.
I haven't really kept up with the indy scene in quite awhile, as my money goes towards things other than DVDs these days. I see the occasional ROH TV show, if you can really count that as an indy since they're owned by a huge right-wing corporation. I read about a lot of feds doing good things, along with the types of things that Rip Rogers trainees complain about.
This tweet got a lot of heat from indy wrestlers who were offended that their style of wrestling was being reduced to a long paragraph. It got even more heat when Randy Orton re-tweeted it and added "……dive".
Orton's one of those guys that is exceptionally popular with wrestlers inside the business. If you ask any WWE-contracted wrestler or anybody that's been with WWE over the years, they will state their awe for Randy Orton's work. He's considered one of the best in the business by the wrestlers. He got that type of praise early on in his career from Internet wrestling fans, but somewhere along the line they fell out of love with Randy. Maybe it was the constant injuries. Maybe it was the constant chinlocks. Whatever it was, it's been a long time since Randy Orton was a favored son of the Internet. Let's be honest, after that House of Horrors match from Payback I would be perfectly fine with never seeing Randy Orton or Bray Wyatt on my television ever again. That debacle made the matches Rogers' trainee was whining about look like the greatest thing ever.
But I have to admit that he gained points with me after this tweet where he took a shot at Bubba Ray Dudley/Bully Ray: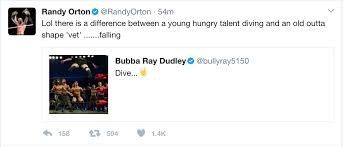 Which wasn't even a shot, really. Read like typical locker room banter between friends/co-workers to me. But Velvet Sky and a lot of other people sure took it serious, as social media and sarcasm don't seem to go very well together. And let's be honest: Bully Ray was trying to be cute and deserved a kick in the knickers. There's nothing wrong with anybody giving it to him, including the Legend Killer himself. Bully Ray says he gets along fine with Orton…Batista's book several years back said they didn't, but they totally smoothed things over and everthing is fine now. Maybe. One never knows.
Randy closed things out with a social media staple…making sure we knew he was getting drunk and having a good time in life.
All in all, pretty typical Randy Orton. WWE lifer. Kind of a jerk. Funny when he's being a jerk to other people. He probably hasn't given this thing any thought since Sunday, and if I was him I probably wouldn't either.
The part I don't get whenever anybody in wrestling whines and complains about the direction wrestling is going: Do they want people to watch wrestling? I get it if you're somebody like Jim Cornette that doesn't have a job in the business that depends on people watching wrestling. People can listen to his podcasts whether they watch wrestling or not. But if you're somebody like Randy Orton that needs people watching the shows in order to make more money, or somebody like Rip Rogers that needs people going to indy shows so there's more opportunities for his trainees to get work, I'm not sure what you get out of the whining and the complaining.
Bookings? Orton doesn't need the help and Rogers retired from in-ring competition some seventeen years ago.
Let's be honest though, this whole thing of the experienced wrestlers not liking what comes after them is nothing new. The wrestling that I'm watching these days got shit on by 60s and 70s wrestlers & old school fans of that day. Randy Orton's grandfather probably complained about the Rock N' Wrestling Era, and Randy Orton's father probably complained about the Attitude Era. They just didn't have Twitter to express their grievances.
Whether I like the indy style or not, it would be silly of me to argue that nobody likes it. There's obviously an audience for it. Maybe it's not as big an audience as the WWE audience, but I would argue that anybody watching any type of wrestling is a good thing for the business as a whole. WWE-contracted folks may argue that people should only watch WWE. Indy folks may say that people should cast WWE aside and watch their stuff instead. But as somebody with no dog in the fight, other than the theory that the more people watching wrestling as a whole means more people that might be inclined to read my columns, I am all about people watching any type of pro wrestling that makes them happy. And from the looks of the ratings these days, wrestling needs anybody watching it for any reason that they can get, whether it's Randy Orton's chinlocks or Ricochet's dives.
If you don't like the dives, don't watch the dives. Though it's going to be tougher and tougher to avoid them since WWE is picking up lots of guys that specialize in that style.
The endgame is Randy Orton doing a dive at Backlash, isn't it? It just has to be.